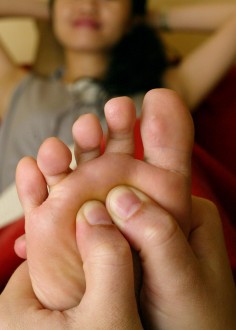 Best massage in Hong Kong: A thrift-seeker's guide to total relaxation
January 29, 2017 admin 0 Comments
The stress of Hong Kong means you need some relaxation, but the big hotel spas charge like wounded bulls for a simple massage. So where to get a decent kneading at a decent price?
The key is a balance between cheap and clean. Plenty of hole-in-the-wall joints offer a nice price but not such nice hygiene.
Wan Chai might not be the first stop for most people looking for a massage without questionable extras, but many swear by the clean and affordable Zenjoy, a spa on Johnston Road with separate floors for men and women. A massage (Thai or aromatherapy) starts at just HK$108 for 50 minutes, and a 50-minute foot massage is just HK$88.
Hong Wai Foot and Body Reflexology Centre, on Cameron Road in Tsim Sha Tsui, is another long-time favourite. Foot massages start from HK$98, and other treatments include hot-stone massages for HK$200, Thai massages for HK$180 and eyebrow shaping for just HK$60. Buy a package of 10 treatments and you can save as much as 25 per cent on each visit.
Fans of Chinese massage would do well to visit Pure Massage, a chain of salons located mostly around the New Territories. Price differ depending on the area, but the Hung Hom branch has a "happy hour" (before 5pm) price of just HK$188 for a 45-minute acupuncture massage, and foot reflexology for HK$158.
For those who prefer the convenience of staying at home, MoMa provides masseuses that make house calls. They're more expensive than small massage shops, but still more affordable than the big spas, and you only have to call a couple of hours ahead. A standard 60-minute massage costs about HK$400.
Now that your body is sorted, it's time to work on those nails. Probably the best bang for the buck anywhere is Nails 88 on Queen's Road Central in Sheung Wan, a hidden-away spot that offers manicures for just HK$50 and pedicures for as little as HK$138. It's basic but clean.
For something a little fancier yet still affordable, Cupcake Nails on Kimberley Road in Tsim Sha Tsui is a favourite for the nail-obsessed. A classic manicure costs just HK$128, and a pedicure starts at HK$318. And, unlike many salons in the city, it also offers nail treatments for men, although at a slightly higher cost.
Finally, Shenzhen is the perennial choice for the truly money-minded, with high-quality manicures at mainland prices – normally less than HK$100 for two hours.
And if you're planning on staying until the next morning, ask the salon if they have an all-night service; many places offer unlimited food and drink as well as a massage bed to sleep as part of the basic treatment price.